Officially, single-game betting in Ontario was made legal in August of 2021, however that does not mean that any ol' bookmaker can now go around accepting single-event wagers. The applicable law involves a rather lengthy and difficult licensing procedure. So far, only a locally run betting brand "PROLINE+" are officially allowed to accept these kinds of wagers.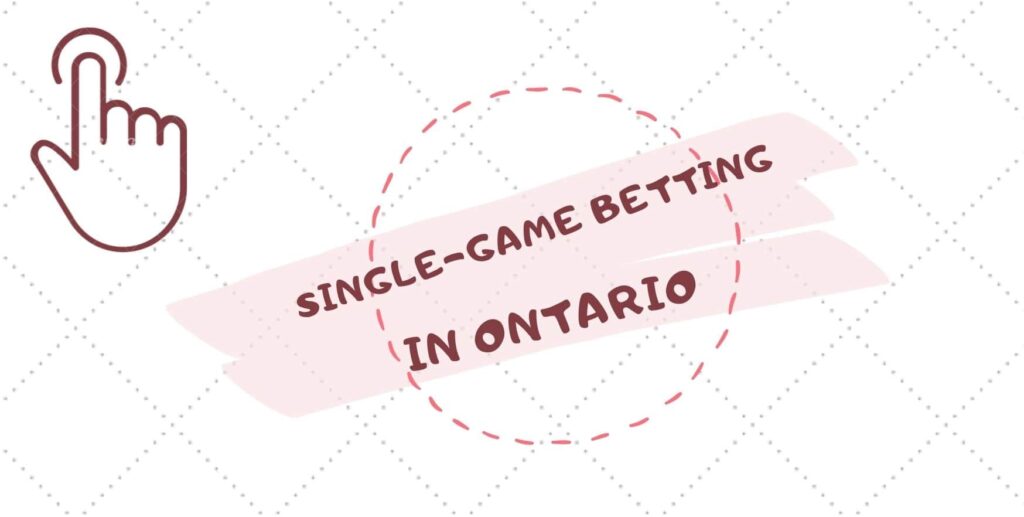 Starting from the 4th of April 2022 – Ontario launched "iGamingOntario", which is governed by the Alcohol and Gaming Commission of Ontario. This opened single-game bets for international internet betting brands. As you may understand, there was (and still) a real gold rush to get into as quickly as possible. Everyone is trying to outperform each other, offering all sorts of different sports and bet types. Whether you are into betting on boxing online or horse racing – they have it all. Nevertheless, the process to get approved is still quite lengthy and some bookmakers might not succeed from the first try.
At the moment the following brands have been approved by iGamingOntario and can legally accept single bets under local Canadian laws: 888casino, 888poker, 888sport, Bet365, bwin, BetRivers, Coolbet, FanDuel, LeoVegas, partycasino, partypoker, partysports, PointsBet, Rivalry, RoyalPanda, theScore, Unibet.
Looks like there is no shortage of bookmakers to choose from and a lot more are on the way. Having said that, make sure to take some time and pick the one that best suits your interests and preferences.
Now, should you only bet with locally approved brands? That is generally a "safe bet" (no pun intended), however it is not as one-sided as it may seem and we will tell you why.
How did People Bet Before That?
A logical question one might ask is "If single bets were not legal in Canada, have Canadian punters never placed single-game wagers?". The answer is no – local betting enthusiasts have been placing single bets for as long as internet betting was around. While it is true that sportsbook businesses that are registered in Canada could not accept single bet – betting brands from other countries could.
You are obviously thinking about various shady illegal betting sites, but in reality this is not the case. Lots of respected and reputable foreign bookmakers are happy to see players from Canada and are accepting Canadian dollars as the main account currency. A good example of this would be Bet99 – everyone knows them and they are as legit as it gets.\
Still, if you have been cautious of internet betting before, because it was somewhere in the "grey area" – not illegal, but not entirely legal either, it is legal now and you may be wondering how you can get started? The best and easiest way to go is finding a solid beginner's guide to betting, we can recommend checking out SportsBetListings.com, however you are welcome to find your own one if you feel like it.
How are Sportsbooks Regulated?
Continuing what we already mentioned above – you can bet with international bookmakers without any issues and it is perfectly legal. The only thing you need to keep in mind is making sure that your preferred sportsbook is licensed by a reputable regulator. Normally such betting brands hold licenses issued by MGA (Malta Gaming Authority) or Curacao eGaming. License-related information should always be available to all visitors and is usually displayed in the website footer.
Is it Risky to Use Non-Licensed Brands?
What is the bookmaker you are looking to bet with a brand that doesn't have any license information on their website? Well, you can always reach out to support and inquire about this, however this may already point to something being wrong.
As a general rule, if you can't find any information about the regulator or license on a bookmaker's website – this means there might be something funny going on. In such cases it would be best to steer clear of them and bet elsewhere. This is important, because otherwise you may potentially compromise your personal information and funds.
Other Recommended Sportsbooks
We review sportsbooks – that's what we do, and we have a number of betting operators that we trust and would be happy to recommend. All the locally licensed brands are already listed above, so we won't be repeating them here. A bookmaker that might be worth your attention is STSBet – they are a European bookmaker with a long history and good reputation. STSBet has recently entered Canada and they don't yet have a local license, however since they are based overseas – they can accept single-game wagers. We have an entire review page dedicated to them and you are welcome to give it a read in case you are interested.
Finally, we would like to say that your mental well-being is much more important than your hobby, so please be mindful of your betting habits. Sports betting is something that should make your favorite sporting events a bit more exciting. It should be treated as a hobby, nothing more than that.
If you find yourself in a situation, where you appear to be spending more than you can afford, that is affecting your every-day life – it might be time to take a break. Most betting operators have the option to temporarily suspend your player account or configure spending / depositing limits.
If you feel that you might need assistance from a trained professional, we recommend turning to https://www.gamblingtherapy.org/en – they have a number of different tools to help you. There are trained professionals, who you can talk to, support groups with other people, where you can discuss your issues and all of this is free.