WALLACEBET BOOKMAKER REVIEW
Wallacebet is a relatively new sports betting operator, who's main focus region is Canada – they hold a valid MGA (Malta Gaming Authority) license and allow using CAD as the main currency. Being founded in 2021, Wallacebet aren't yet widely known to the Canadian betting community, so we thought this might be a good chance to tell you about them.
They are fresh, and we mean that in a good way – there's a somewhat innovative approach used with their sportsbook, they have overall good odds and generous offers. Of course, we will cover all of that in more detail below, at the moment we would just like to say that Wallacebet have generally surpassed our expectations and are easily able to compete with some bigger and better-known Canadian bookmakers. It is extremely difficult to find good and informative reviews of Wallacebet out there, which is why we decided to prepare our own review for you. We hope that this page will provide you with all you need in order to find out what Wallacebet are all about.
Registration is one of the first things you are going to come across as a new player and Wallacebet made it quite easy to get started. You will need to fill out a two-step registration form, where you will be asked for your email address, password, name, date of birth address and phone number. Once you complete and submit the registration form you will be asked to verify your email address – you are good to go as soon as you do that. There is no need to add any additional profile information or verify any other details at this stage. The registration process is straightforward and quick, you can create an account in under 2 minutes.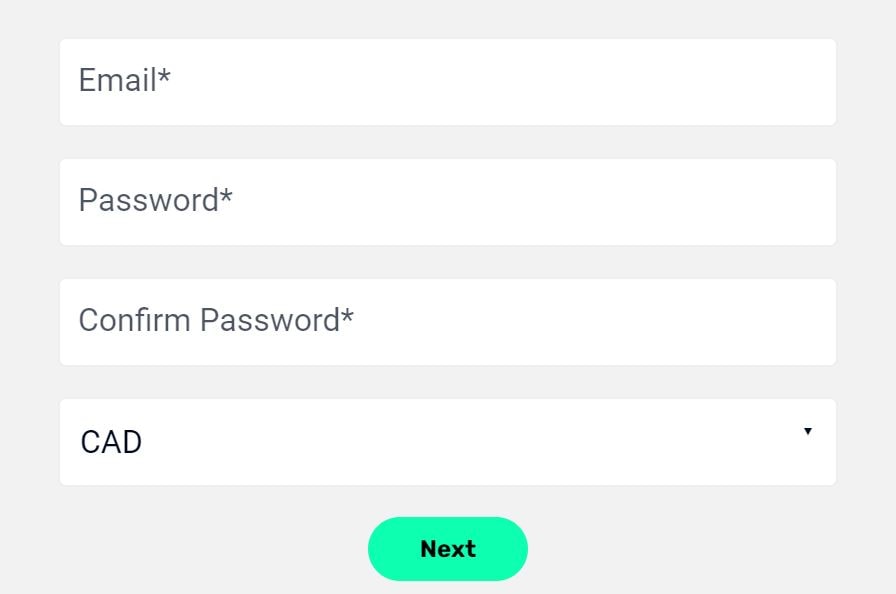 Like many other bookmakers out there, Wallacebet have a welcome offer for new players. As a newcomer from Canada you can get a 100% deposit bonus up to C$100 for your first deposit. The minimum required deposit is equal to the minimum amount you can deposit in general, so there is no way to miss out on this one. The wagering conditions don't stand out in any way, however they are generally fair. Your bonus funds have to be wagered seven times with the odds of 2.00 or higher – this is more-or-less what you would normally see with other Canadian operators.
Wallacebet offer a support service, which is available via live chat an email. We want to give you a full understanding of how their services look like, so we got in touch with them ourselves. We contacted support via live chat on several occasions, asking questions related to general betting rules and bonus terms. We are happy to tell you that on every occasion support representatives we chatted with were knowledgeable, polite and professional. They also spoke good English and quickly understood our questions, so don't hesitate to give them a ping if you will need any help.
Wallacebet have an impressive sports portfolio, which covers over 50 different sports. This ranges from the most popular ones like football, hockey and basketball all the way to sports like weightlifting, rowing and chess, which are rarely offered by other betting operators. There are thousands of games available on a daily basis and we will take some real-life examples to illustrate how their offer looks like.
Wallacebet cover all top-tier hockey, basketball, football and baseball tournaments as well as a large number of smaller ones. At any given day you can expect to see over 500 games being available for betting. Depending on the sport and tournament each game will have between 40 and 150 markets open. This includes a wide range of different special and combination markets that would be difficult to find elsewhere.
The live betting offer at Wallacebet is as impressive as the pre-match section – they cover over 20,000 live games on a monthly basis. Again, every day you will have over 150 events you can bet on and all live games have their markets open up until the very last moments of the game. As you can see – there is definitely no shortage of betting opportunities here.


SPORTS COVERED BY WALLACEBET
Soccer, 3×3 Basketball, American Football, Archery, Archery Shooting, Artistic Swimming, Athletics, Aussie Rules, Auto Racing, Badminton, Baseball, Basketball, Basketball Shots, Beach Volleyball, Biathlon, Bowls, Boxing, Call of Duty (COD), Canoeing, Chess, Climbing, Counter-Strike: GO (CS:GO), Cricket, Cycling, Darts, Diving, Dota 2, E-Football, Equestrian, Fencing, Field hockey, Formula 1, Freestyle Wrestling, Gaelic football, Golf, Greco-Roman Wrestling, Gymnastics, Handball, Hurling, Ice Hockey, Judo, Karate, King of Glory (KoG), Lacrosse, League of Legends (LoL), Marathon Swimming, MMA, Modern Pentathlon, Motorbikes, NASCAR, Netball, Overwatch (Owatch), Pesapallo, Politics, Rainbow Six (R6), Rowing, Rugby League, Rugby Sevens, Rugby Union, Sailing, Shooting, Skateboarding, Snooker, Softball, Special bets, Speedway, StarCraft 2 (SC2), Swimming, Table Tennis, Tennis, The Penalty Kicks, Valorant, Virtual Bicycle, Virtual Drag Racing, Virtual Football League, Virtual Football Pro, Virtual Greyhounds, Virtual Horse Racing, Virtual Marble Racing, Volleyball, Water Polo, Weightlifting
Like we already mentioned earlier – Canada is Wallacebet's target region and that means you can make deposits in CAD, bet in CAD and request withdrawals also in CAD. Most common local payment methods are accepted here, this applies to deposits as well as withdrawals. Requesting a withdrawal will require you to complete your profile.
The minimum amount you can deposit is C$20.
The minimum amount you can withdraw is C$25.
Like pretty much everyone else in the industry, Wallacebet have a welcome bonus for new players. As well as that, they offer a reload bonus for existing players and weekly free bets. Let's look into each one of these offers in detail below.
This bonus is applicable to all new players and can be claimed after you make your first deposit. You will get a 100% bonus up to C$100 after you complete your first deposit, your deposit funds have to be wagered seven times with the odds of 2.00 or higher. If you are placing multi (accumulator) bets – each selection's odds have to be at least 2.00. Go to the "Promotions" page, find the welcome bonus and press the "Claim" button before making your first deposit.
Wagering: 7x
Minimal deposit: C$20
Bonus valid for 30 days
Required odds: 2.00 or higher
OTHER PROMOTIONS AT WALLACEBET
Existing players also have something to look forward to. Every week you will be able to claim two deposit bonuses and if you ended the previous week at a loss, you will also get a free bet.
Every Saturday and Sunday you have a chance to claim 25% bonuses up to C$100. The conditions to claim the bonus are the same as with the welcome offer – you have to deposit at least C$20, however the wagering requirements are different. Bonus funds received from this offer have to be wagered twelve times with the odds of 2.00 or higher. If you are placing multi (accumulator) bets – each selection's odds have to be at least 2.00.
Wagering: 12x
Minimal deposit: C$20
Bonus valid for 7 days
Required odds: 2.00 or higher
If you ended your week with a loss, meaning your overall losses were greater than overall winnings – Wallacebet will give you a free bet equal to 10% of what you have lost. Free bets are credited every Monday and the minimum possible value of a single free bet is C$10. The maximum possible amount you can get back in free bets is C$125.Your free bets are valid for 6 days and should be wagered using single bets with the odds of 2.00 or higher.
Visa, MasterCard, PaySafeCard, MuchBetter, Neosurf, Rapid Transfer, Skrill, EcoPayz, Neteller
Even though there is currently no mobile app, Wallacebet have done a great job with their mobile website. It is quick to load on most mobile devices – we tested it with several (newer and older) Android phones as well as an iPhone 8. We were able to have an overall good betting experience on all testing devices, so even if you have a relatively outdated one – that should not be an issue. The website itself is built in a way where all static page elements are cached by your browser to significantly reduce loading times and general traffic usage.
Now we would like to take a look at the user interface. When you open up the sports betting section, you will see a familiar layout, which is used by most operators in the industry. This is mostly a good thing, as you will not need to spend any time on getting used to the navigation.
The sports selection menu is quite convenient, as it allows you to see how many games are currently available under each sport without having to open anything. The same can be said about individual games, each game has a number next to it – that number shows how many markets are currently traded.
When you open up a game you have several different options to arrange how markets are placed, which will allow you to get the best out of your screen size. Markets are also grouped into different categories, which you can filter them by, you can also add certain markets to your "favorites" list.
The mobile betting interface at Wallacebet is generally well-designed and quite user-friendly; they've also done a good job at mobile optimization. At this point we can say that this is probably as good as it gets with a mobile betting site.
WALLACEBET DESKTOP SITE OVERVIEW
A functional and user-friendly interface design is usually a good sign when it comes to betting sites, as this will enable you to find exactly what you need in just several steps, markets and selections should be clearly visible and understandable while the betslip part should show all details relevant to your bet and additional options and/or features if applicable. Below are some examples of how Wallacebet's online sports betting section looks like.
The desktop version of Wallacebet follows most industry-wide trends similar to their mobile website. Again, this is a good thing, because as soon as you open up their website – you already know where to find what you are looking for. The design from an aesthetical point of view is also quite pleasing, their colors work well together, the artwork is clever and fits their overall theme. Nothing really stands out as odd or unnecessary here.
From a functional standpoint, the desktop website is rather well thought through. All account and fund management sections are placed close together, so whenever you need to make a deposit, request a withdrawal or review your bets and transactions – this all can be done in the same place.
The sports betting section gives you a quick overview of all available games – next to each sport you will see a number that indicates how many games are currently available. The same approach is used with individual games – each game will have a number next to it to indicate how many markets are currently open. Once you open up an actual game, you will have several different ways how you can arrange the layout, as well as that you can filter markets based on a number preset categories.
To sum things up, at first glance Wallacebet are following most industry-wide trends and standards when it comes to the design of their website. When done in a sophisticated manner, this allows a bookmaker to give their players an exceptionally good user experience and Wallacebet managed to do exactly that.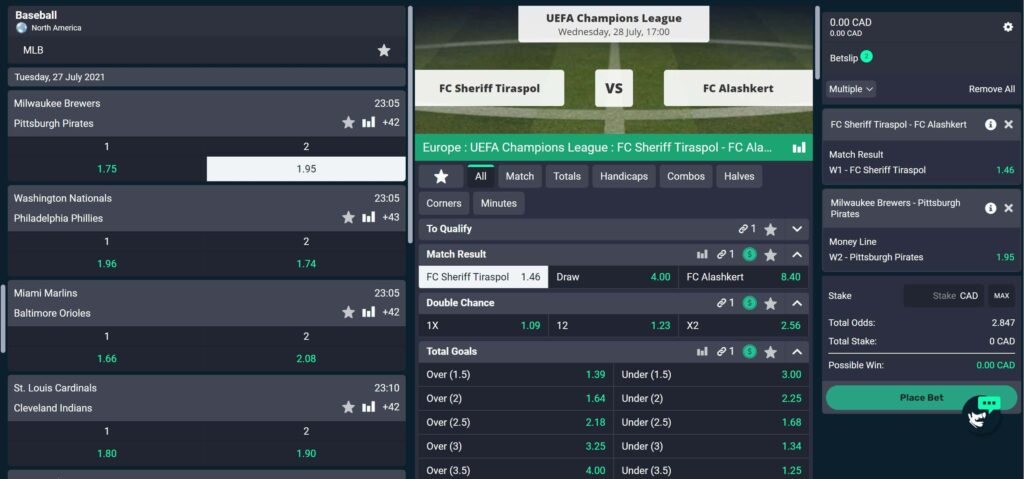 WALLACEBET AFFILIATE PROGRAM
Wallacebet has an affiliate program, which you can sign up with and promote their brand for a share of their revenue. The affiliate program is managed by Campeon Gaming Partners – you can find more details about the applicable terms and conditions on their official website.
First of all, you will need to submit an application, follow the link below in order to do that. You will then be taken to Campeon Gaming's website, where you will need to submit a registration form. The form is quite lengthy and will require a lot of information from you, so make sure that all details you enter are up-to-date and accurate. After completing and submitting the registration form, it may take up to a week for it to be reviewed. If your application is successful, an affiliate manager should reach out to you using the contact details you provided and you can discuss all the remaining details with him / her.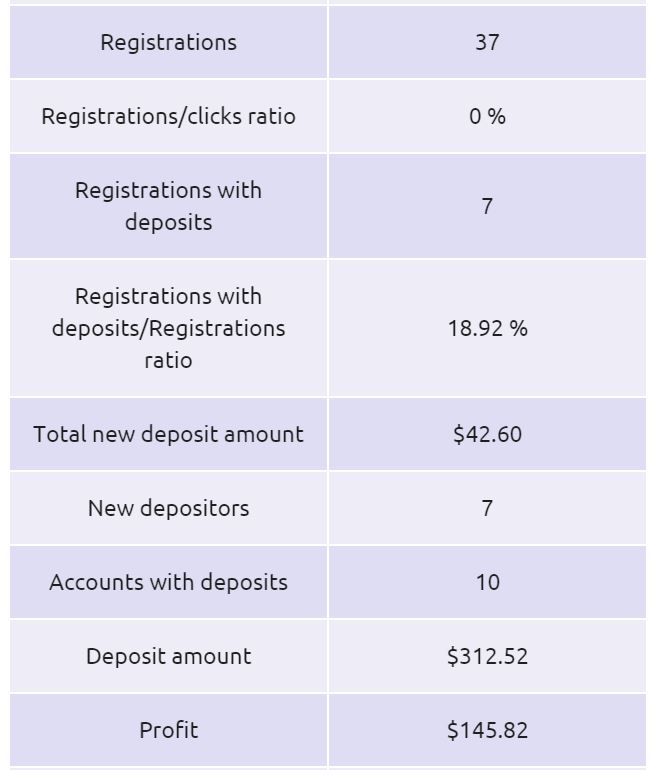 FAQ | FREQUENTLY ASKED QUESTIONS
HOW TO REGISTER AT WALLACEBET?
The registration process is quick and easy, just make sure you have access to your email inbox. To start, follow the registration link and you will be taken to wallacebet.com, where you will need to open the registration form. Here you will be asked for your email address and password, once you enter them you will see a second page where you need to enter your name, date of birth, phone number and address. A verification email will be sent to your email address once you complete and submit the form – open the link to verify your address and you are good to go.
We noticed that it might take a little while for the verification email from Wallacebet to arrive (up to 5 minutes), so don't worry if it doesn't come immediately.
HOW TO CLAIM THE WELCOME BONUS?
The 100% first deposit bonus is available to all players from Canada – open the "Promotions" section on wallacebet.com and find the welcome bonus there. Press the "Claim Now" button and only then make your first deposit. It is important to keep in mind that you have to actually "claim" it from the promotions page in order for the bonus funds to be automatically credited to your account.
WHAT IS THE MINIMUM DEPOSIT?
The minimum amount you can deposit is C$20.
WHAT IS THE MINIMUM WITHDRAWAL?
The minimum amount you can withdraw from your account is C$25.
No, a bet you already placed cannot be cancelled, although you can still cash it out.
DO I NEED TO VERIFY MY PERSONAL DETAILS?
You don't need to do that in order to get started, however Wallacebet would require you to verify your identity before you can receive your first withdrawal. This is a standard procedure carried out by all legitimate sportsbook operators. 
Alex Mortin – a life-long basketball fan and a devoted Toronto Raptors supporter. Alex has worked with some of the biggest sports betting brands in the world and has more than 15 years of experience in this industry. His rich experience in the sports betting field makes him the perfect person to produce high-quality sportsbook reviews. If you want to connect with Alex and learn more about what he is up to, feel free to follow him on Facebook and LinkedIn.