MOSTBET SPORTSBOOK REVIEW
WHAT MAKES MOSTBET A GOOD SPORTSBOOK
Mostbet is quite a mature betting brand that launched way back in 2009, so they have well over 10 years of experience. They are now operating in over 90 different countries and Canada is one of them. Their head office is located in Cyprus and they hold a valid Curacao (No. 8048/JAZ2016-065) operating license.
At the moment, Most bet doesn't hold a license from any local Canadian regulator. Even though that might change in the near future, we recommend keeping that in mind if you decide to create an account with them. This doesn't mean that you should avoid Mostbet – they have been around for quite some time and have a good reputation in the sports betting community.
We are going to cover all aspects of their sportsbook platform, so take note of whatever you may find important. This should help you make an informed decision on whether they are the right betting brand for you.
Let's go over the registration process and all the available registration options. Mostbet com offers quite a few different ways you can create an account, the one we like the most is "One-Click Registration" because it will allow you to get a taste of their product without wasting any of your time.
"One-Click" registration allows creating an account within literally one click / tap – it will take less than 1 minute to register. Once your new account is all set, you will get a pop-up with your username and password, which you can send to your email address or save it on your device as a text file. Of course, you can later change your password to something that you can easily remember.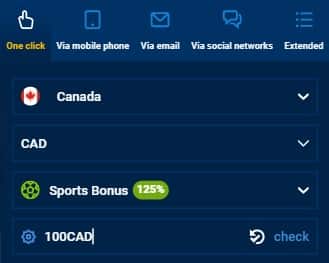 Apart from the "One-Click" option, you can also create an account using your phone number, email address or social network (Google, Steam, Twitter, Telegram) profiles.
Use our exclusive promo code 100CAD to get an extra warm welcome.
When you are already logged in with your new account, there are two additional things we recommend doing in order to save you some time in the future:
As a new player from Canada, you can get a 125% welcome bonus for your first deposit. The maximum bonus size is C$1,000. It is important to keep in mind that you must pick your bonus on the registration page, make sure to select the "sports bonus" option, if this is what you want.
The minimum amount you need to deposit in order to activate the welcome offer is C$15 and it only applies to your first deposit. Also, your first deposit has to be made within 7 days from the day when you registered.
Once your bonus is credited to your player account, you will have 30 days to fill out the wagering requirements.
Online assistance is available 24/7 – you can get in touch with support via the live chat section on the website or in Telegram.
To give you a better picture of how the support service works, we got in touch with them ourselves. This time, we used the live chat window on the website to ask a couple of general questions regarding the welcome offer.
The waiting time was pretty much 0, as we got to talk to a support representative almost instantly. The chat agent had good written English and good product knowledge, as he was able to quickly answer all our questions.
Having the above in mind, don't hesitate to reach out to support whenever you need any help with your account.
SPORTS BETTING SECTION AND ODDS
The sports betting section covers more than 25 different sport disciplines, so even the more niche sports can be found here. All the biggest leagues like NBA, NCAA, NHL and MLB have an impressive number of betting markets available. Nevertheless, most of you are probably interested to see how the ice hockey section looks like, so let's check it out together.
As an example, we are going to take an NHL game between Tampa Bay Lightning and Anaheim Ducks. The game has over 500 markets open for betting, 546 to be precise. This includes markets covering each individual period of the game as well as various handicaps and combination bets.
The live betting section has a slightly smaller number of available sports, however this is a common thing with betting operators. Still, all popular sports and leagues are available for live betting, so you will likely find what you need.
Similar to the previous example, let's take a live ice hockey game to give you a realistic picture of the live betting section. The number of open markets in a live ice hockey game is also quite impressive. During the first period you will have around 300 markets to choose from and these will also include markets covering other periods of the game. Most games will also have penalty and power play goals markets available.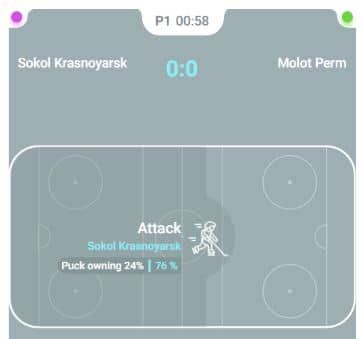 Esports is now one of the most popular betting disciplines, especially for the slightly younger audience. Therefore, Mostbet have put quite a lot of effort into esports, they've even branched out as a totally separate section of their website.
The esports disciplines you can bet on are: CS:GO, DOTA 2, League of Legends (LOL) and Valorant. All games (when possible) come with an embedded video stream, usually from Twitch. Most esports games will have up to 30 markets open during the pre-game phase and up to 25 markets while the game is live.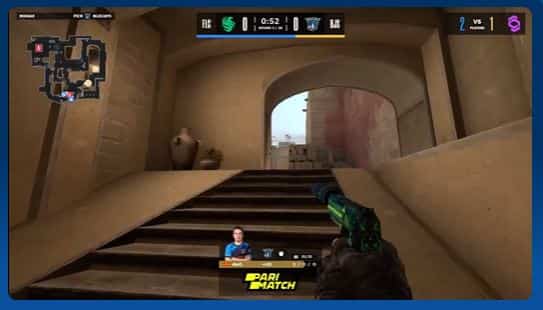 SPORTS COVERED BY MOST BET
Football, Tennis, Basketball, Ice Hockey, Volleyball, Handball, Martial Arts, Table Tennis, Australian Riles, Baseball, Pool, Boxing, Cricket, Darts, Futsal, Rugby, Hurling, Kabaddi, Water Polo, Chess, Bandy, Biathlon, Counter-Strike, Dota 2, League of Legends, Valorant, Greyhound Racing, Horse Racing
Mostbet com gives you a lot of freedom when it comes to payment methods, you aren't forced to use only traditional payment gateways. Nevertheless, the main local "go-to" payment option (Interac) is supported. You can use Interac payments to top up your players account and withdraw your winnings. You can also use several cryptocurrencies to make a deposit and request a withdrawal.
The minimum amount you can deposit is C$15.
The minimum amount you can withdraw is C$40.
MOSTBET WITHDRAWAL – HOW IT WORKS?
When requesting a withdrawal, you should be using the same payment method that you used to make the deposit. You should be using your own payment details, even if this is an electronic wallet address – we recommend using only your own one. The minimum amount you can withdraw from your player account is C$ 40.
The following withdrawal limits apply:
C$5,000 per day
C$15,000 per calendar week
C$50,000 per calendar month
In order to request a withdrawal you will need to go to the "Profile and Withdrawal" page. If you are using a smartphone, you can find it in the navigation menu on the right side of the screen. Before you can actually submit your withdrawal request – you need to add personal profile information and contact details.

Filling out profile information is easy and straightforward. You will be asked to add your full name, city, date of birth and document number. Make sure to use a real document number because you may be asked to verify your identity at a later point.
Next, you will need to add and confirm your contact details. Add your email address to get a verification message sent. Open that message and follow the verification link to confirm your email address. The same process applies to the mobile phone number, but instead of an email, you will get a text message with a code.
IDENTITY VERIFICATION (KYC) REQUIREMENTS
The terms and conditions page doesn't have a clear indication of when you might be asked to verify your identity. Usually, this may happen when you request a relatively large withdrawal. Nevertheless, we recommend being ready when (and if) the time comes.
To verify your identity, you will be asked to provide a photocopy of your ID document. The document number should match the number that you earlier added on your profile information page.
Mostbet has many different sports promotions available for all active players. You will be able to choose from a variety of different bonuses and offers, some of which can be claimed on a weekly basis. This is, of course, in addition to the welcome offer that all new players from Canada are eligible for.
As a player from Canada, you can claim Mostbet's C$1,000 welcome bonus on your first deposit. Just make sure to activate it within 7 days from the day you created your account. The minimum amount required to activate this bonus is C$15. Once your first deposit is confirmed, you will receive a bonus equal to 125% of the amount you deposited, but more than C$1,000. Your bonus will be automatically credited to your player wallet within 72 hours.
Bonus funds have to be wagered 5 times using accumulator bets with 3 or more selections. Each selection should have the odds of at least 1.40 (-250). You have 30 days before your bonus expires.
Wagering: 5x
Minimal deposit: C$15
Bonus valid for 30 days
Required odds: 1.40 (-250) or higher
OTHER PROMOTIONS AT MOSTBET
As we already mentioned earlier – things don't end after you are done with the welcome offer. Mostbet have tons of different bonuses and offers that all active players can take advantage of. Available promo offers include things like free bets, stake refunds, odds boosts and loyalty points.
This is a deposit bonus that everyone can claim on a weekly basis, every Friday between 00:00 and 23:59. The bonus is given only for the first deposit you make on a Friday and the minimum deposit amount is C$15. Your bonus will be equal to 100% of the deposit you make, but not more than C$100.
Bonus funds have to be wagered 5 times using accumulator bets with 3 or more selections. Each selection should have the odds of at least 1.40 (-250). You have 7 days before your bonus expires.
Wagering: 5x
Minimal deposit: C$15
Bonus valid for 30 days
Required odds: 1.40 (-250) or higher
FREE BET FOR A SERIES OF LOSING BETS
In case you find yourself placing 20 losing bets in a row – Mostbet will give you a free bet to cheer you up. The stake for each one of the 20 losing bets should be at least C$1. Both accumulator and single bets count. Your free bet size will be 50% of the average stake size of your 20 losing bets. Once the free bet is credited to your account, you will have three days to use it before it expires.
If you place an accumulator bet and lose by just one selection – you get your stake back as a free bet. In order to qualify for this promotion, your accumulator should have at least 7 selections and the odds of each individual selection should be 1.70 (-143) or higher.
The maximum possible free bet amount is C$800 and you can use this offer an unlimited number of times.
You can ensure your bet to guarantee some return even in case your bet loses. The insurance option can be selected on the betslip. For example, you can pay a certain percentage of your staked amount to ensure your bet. If your bet loses – you get your stake back, if your bet wins- your winnings are paid in full.
Your potential winnings from an accumulator bet will be increased with every new selection you add. The boost starts with 5% for having three selections and increases by 5% with every added selection. The maximum winnings boost you can have is 40% which will be applied to your bet if you have 10 or more selections in your betslip.
Interac, eCashout, Bitcoin, Tether (USDT), Bitcoin Cash, Litecoin, Ripple, Dash, BNB
Most betting brands today tend to focus on mobile devices, because most people generally use their smartphones to place bets. Having that in mind, it is important to have a fast, well-optimized and user-friendly mobile interface. Mostbet also has betting apps, which we will look into in more detail later. First, we would like to go over their mobile website and how well it works on different devices.
We did several test runs of their website using four different smartphones: an iPhone 8, an iPhone 14, Samsung Galaxy S10 and Google Pixel 7. We intentionally used two somewhat outdated devices, as we understand that not everyone has access to all the latest models.
The mobile website loaded quite quickly on all devices, the new ones and the old ones. One thing that we noticed initially is that older devices with smaller screens may have issues displaying some images that were meant for larger screens. However, this seems to be a purely cosmetic issue.
Going forward, newer smartphones had absolutely no trouble accessing any section of the website and all features appeared to work as expected. Older devices showed slightly longer loading times, however the difference was not significant, around 20% on an average.
The user interface uses a lot of static elements, which can be cashed by your browser – this reduces overall loading times and network usage.
The only real thing which older devices actually had issues with are Twitch live streams. However, this isn't necessarily down to how the website is optimized, because these are direct Twitch embeds.
The mobile website user interface is identical to the betting app UIs, so we thought it might be a good idea to go over some basic functionality features and navigation.
The sports betting section navigation bar will be located around the top of the screen with a horizontal list of available sports. Each sport has a number next to it – this is the number of games currently open for betting. Below, you also have two search boxes – one for countries and the other one for tournaments and competitions.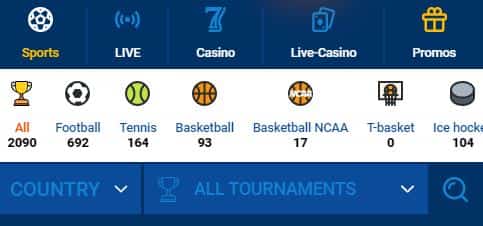 Even though each sport has a number of open games shown next to it – the same cannot be said for individual games. When looking at the list of available games, you are unable to see how many markets are currently open without going into the game itself.
Once you pick a selection, it gets added to your betslip, which will appear around the bottom of your screen. You can either place a quick bet from the betslip overview or you can expand your betslip to see all available options. The betslip itself is pretty standard, however there is one cool thing about it. If you are getting close to claiming a bonus or a boost – it will give you suggestions on what you need to do. For example, it might tell you "Add 2 more selections with the odds of 1.2 or greater to get a bonus".
Finding and downloading Mostbet's app is pretty easy, however if you have any issues or run into any difficulties – you are more then welcome to follow our step-by-step instructions below: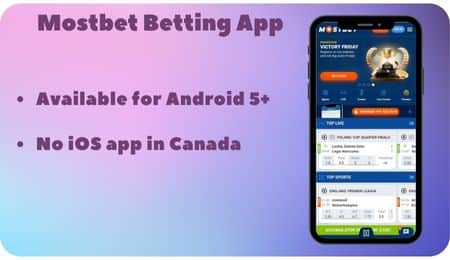 Like many other betting brands, Mostbet has a mobile application. However, while most betting brand focus on their Android app, Mostbet also has an iOS one that you can download from the App Store. Usually betting apps aren't available on iPhones because the process of getting an app published with Apple's App Store is quite complicated, so the fact that it has been done here, is definitely a good sign.
At the moment Canadian players cannot use the iOS app, however we hope that it might become available in Canada in the near future.
Mostbet App Download (APK) and Installation
The Android app can be downloaded directly from the mobile website. Usually, there is a pop-up download prompt when you go to mostbet com. If you missed the pop-up or can't see it – we will give a direct download link below.
The Android application requires you to have an Android version of 5 or higher. If you have an older version, you will not be able to install and run this app.
Follow the steps described below to install and open the application on your phone.
First Step – Download the APK File
Press the green download button and to start downloading the app. Your phone can give you a pop up with a warning (as seen on the picture), you will need to press the "Ok" button to proceed.

Second Step – Install the App
Once the app is downloaded you will get another pop-up asking whether you want to open it. Press the "open" button to proceed.
At this stage your phone can give you a warning that the app is from an unknown source, so it requires additional approval. Chrome will give you an option to go over to the settings page.
On the settings page, you will need to enable the "Allow from this source" switch.
Once you do that, you need to tap the installation file again to install it on your device.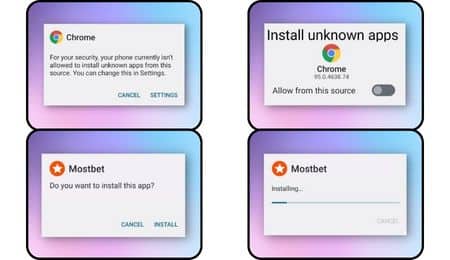 Step Three – Open the App and Sign in
Now, you should see the Mostbet app being available on your phone's home screen. You can log in using your existing account if you have one or you can create an account directly in the app.
MOSTBET DESKTOP SITE OVERVIEW
A functional and user-friendly interface design is usually a good sign when it comes to betting sites, as this will enable you to find exactly what you need in just several steps, markets and selections should be clearly visible and understandable while the betslip part should show all details relevant to your bet and additional options and/or features if applicable. Below are some examples of how Mostbet's online sports betting section looks like.
The desktop website has a modular layout and is generally split into two different sections: casino and sports betting. We are going to focus on the sports section which consists of a sports navigation bar on the right, an overview and event viewer section in the middle and a betslip on the left. As you can understand, this is the "classic" sportsbook layout.
We noticed that the UI isn't as informative as we would like it to be – there is no indication of the number of open games per sport. The same applies to individual games, there is no way to know how many markets are open for betting without opening the actual game.
Apart from that obvious drawback, the interface is user-friendly and easy to navigate, so even if you are a novice bettor – you should still feel quite comfortable.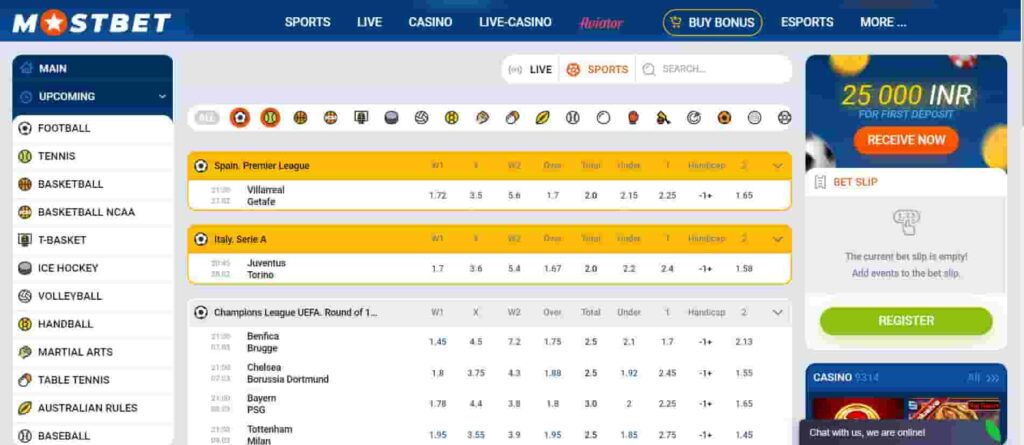 MOSTBET AFFILIATE PROGRAM
Mostbet is a rapidly growing betting brand, so they are looking to expand their player base as much as possible. This means that you can also play a role in this by becoming an affiliate. You will be inviting new players and getting a certain percentage of the revenue they bring in.
If you want to become an affiliate, you will need to start with creating an affiliate account with Mostbet. You can find a link to their affiliate portal below. Once your account is created, it will need to be approved by an affiliate manager, who will get in touch with you usually within a day.
You would need to have some plan in place as to how you are planning to attract new players. A personal website or blog is a good start, a large social media following would also help. You will be able to discuss your future plans and cooperation terms with your affiliate manager. Once you agree all the details – you will be given your own referral link, which you can share with other people.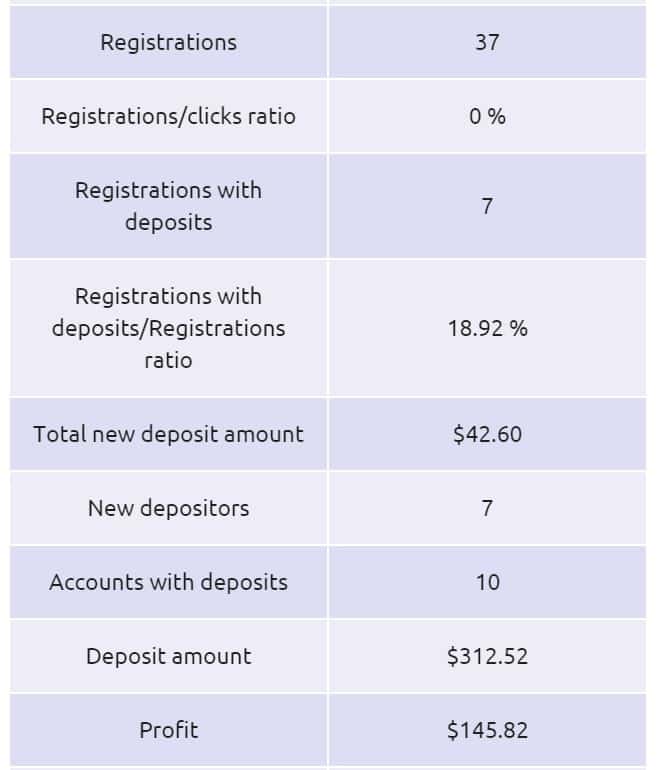 FAQ | FREQUENTLY ASKED QUESTIONS
IS MOSTBET LEGAL IN CANADA?
Mostbet doesn't have a Canadian license, however it is legal to use them for online betting. They have a good reputation and are a trustworthy bookmaker based on our review.
HOW TO REGISTER AT MOSTBET?
There are 5 different registration options to choose from. We recommend using the "one-click" option or creating an account using one of your social media profiles. Creating an account using one of these methods takes less than one minute.
HOW TO CLAIM THE WELCOME BONUS?
The welcome bonus will be automatically credited to your account after making your first deposit. Just make sure that you deposit at least C$15 and you do it within 7 days from registering your account.
Don't worry if the welcome bonus will not appear in your layer wallet instantly, it may take up to 72 hours for the bonus to be credited.
WHAT IS THE MINIMUM DEPOSIT?
The minimum possible deposit amount is C$15.
WHAT IS THE MINIMUM WITHDRAWAL?
The minimum amount you can withdraw from your player account is C$40.
Alex Mortin – a life-long basketball fan and a devoted Toronto Raptors supporter. Alex has worked with some of the biggest sports betting brands in the world and has more than 15 years of experience in this industry. His rich experience in the sports betting field makes him the perfect person to produce high-quality sportsbook reviews. If you want to connect with Alex and learn more about what he is up to, feel free to follow him on Facebook and LinkedIn.