COBRABET BOOKMAKER REVIEW
WHAT MAKES COBRABET A GOOD SPORTSBOOK
Cobrabet is a fairly new name in the world of sports betting, they have been around since early 2020. Now, as you are here reading this – you are probably already aware that Cobrabet is open for Canadian players. They hold a valid Antillephone N.V. (no. 8048/JAZ2020-013) license, which allows accepting payments and bets from Canadian players and facilitates online betting activities.
There are some really cool things about them, which we are going to cover in detail later on and we are sure you are going to like some of them. Obviously, there are certain things, which aren't as good as they could be or missing altogether – we will tell you about them as well.
To put things in perspective, despite being a "fresh" sportsbook, Cobrabet offers pretty much everything you might need on a daily basis. They have good offers with fair conditions, an intuitive interface and we were especially pleasantly surprised with their betting market variety.
The registration process is straightforward and quick, however it would make sense to split it into two separate steps. The first step is creating the actual account and setting up your credentials – you will be asked for your email address and desired password. You will then need to verify your email address by opening a link.
You might think that's it, but there's one more thing you need to do. Even though you have an account and can log in – you can't yet make any payments. In order to get started you will be asked to add some personal details to your account. You will need to add your name, date of birth, and phone number. For better security, we recommend verifying your phone number as well.
Now, once you are done with the two steps described above – you are good to go. The entire process will take around 2 minutes to complete.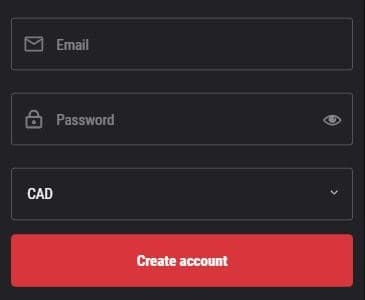 You may have read somewhere that Cobrabet offer free bets form all now payers. This information is outdated and not accurate – there currently is no welcome offer for new players from Canada. In fact, there is in general no welcome offer in general.
Now that doesn't mean that you won't get anything at all since there are quite a few combo bet boosts, which anyone can take advantage of. Of course, we understand that this is not ideal, but then again – welcome bonus isn't really why you would stay with a sportsbook, isn't it?
Support is mainly available via live chat, although there is also an email address and a contact form in case you need an alternative. Live chat is said to be available 24/7, so you should be able to get help whenever you might need it.
In order to give you the best possible understanding of what CobreBet's support is like, we decided to get in touch with them ourselves. We used live chat on two occasions asking questions about betting rules and bonus conditions. The waiting time was around 5 minutes, so you might need to wait a bit for someone to pick up. The representatives we chatted with were knowledgeable and answered our questions in a clear and efficient manner. Taking the above into account our support experience was generally positive.
Cobrabet offer betting on over 35 different sports, so whatever you are in to – you will probably find it here. Since there are so many sports available, we don't think it is worth going over all of them. Instead, let's focus on hockey – we will take real-life examples of what you would be able to find here.
At any given day you will see over 150 hockey games open for betting. This includes all the top tier competitions like the NHL, OHL and others, as well as loads of tournaments from other countries. On an average each game will have 50 or more markets to choose from. It is also worth mentioning that there is usually a good selection of period market and combo markets available on each game.
Finally, we can also take a quick look at the live betting section. There are usually between 20 and 50 live hockey games traded throughout the day, however this number may vary depending on the season. Each game will have up to 200 markets open throughout its duration and betting is usually open until the last seconds of the game.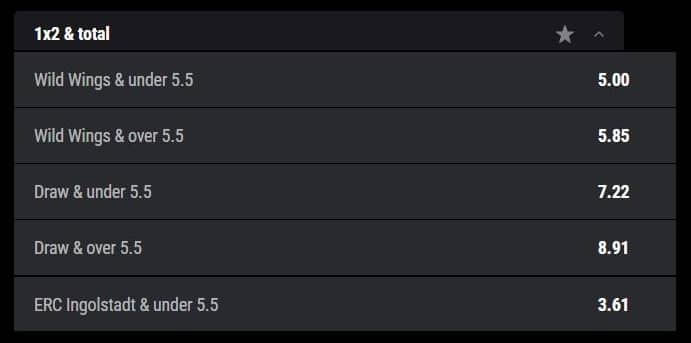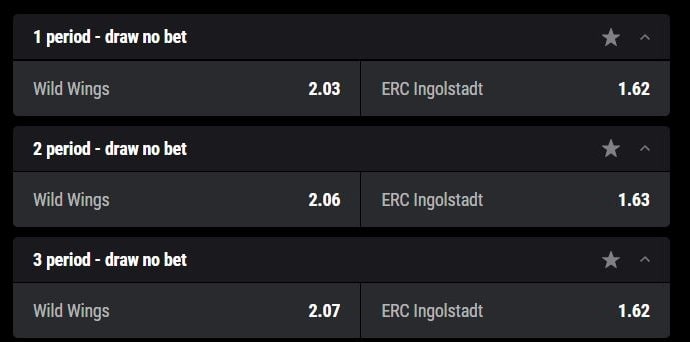 Esports is one of the main focus areas at Cobrabet – they are head and shoulders above most other sportsbooks in this regard. You can currently choose between 9 different esports disciplines: Counter-Strike, Call of Duty, Dota 2, E-soccer (mostly FIFA), King of Glory, League of Legends, Rainbow Six, Rocket League and Starcraft. They also have plans on expanding the esports section, so if you're into gaming and betting – you might have just found what you were looking for.
SPORTS COVERED BY COBRABET
Basketball, American Football, Aussie Rules, Badminton, Baseball, Beach Volley, Boxing, Cricket, Curling, Cycling, Darts, Field Hockey, Floorball, Formula 1, Formula E, Futsal, Gaelic Football, Gaelic Hurling, Golf, Handball, Ice Hockey, Indy Racing, Lacrosse, MMA, Motorcycle Racing, Rally, Rugby, Ski Jumping, Snooker, Soccer, Specials, Stock Car Racing, Table Tennis, Tennis, Volleyball, Waterpolo
Cobrabet wants to make sure their Canadian players have all they need to feel comfortable. Easy and quick payments play a vital role in achieving that. All popular local payment solutions like Interac and iDebit are available here. Additionally, you can use a number of e-wallets and even cryptocurrencies. The minimum / maximum payment and withdrawal limits will differ depending on the payment method you choose.
The minimum possible Interac deposit is C$30.
The minimum amount you can deposit using iDebit, Visa and MasterCard is C$15.
The minimum deposit amounts for MuchBetter, Flexepin, and Neosurf are C$20.
The minimum withdrawal amount for most payment methods is C$30.
The minimum direct bank transfer withdrawal is C$500.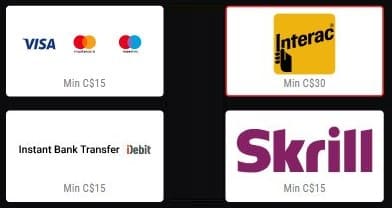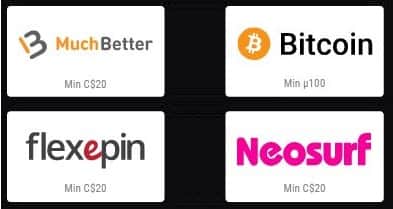 Like we already mentioned earlier, there is currently no welcome bonus available for new players. It used to be a set of free bets, however the offer was discontinued and hasn't been yet replaced by a new one. We will definitely post an update here as soon as something new becomes available. For now, you can use several accumulator bet boosts, which are available for all players from Canada and can be used an unlimited number of times. Let's take a look at each combo boost in detail below.
These two boosts are applicable to all sports, giving you an odds boost, which will increase together with the number of selections on your bet. The 25% boost stats with 1.07 for 3 selections and can get up to a maximum of 1.25 for 15 or more selections.
The 20% boost starts with 1.05 for 3 selections and increases all the way up to 1.20 for 15 or more selections.
25% BASKETBALL COMBO BOOST
This boost is applicable to all accumulator bets placed on basketball games. You will get an additional 1.07 boost starting with 3 selections and it will gradually increase with every added selection. The maximum boost is 1.25 for 15 or more selections in your bet.
Soccer has the highest combo bonus percentage among all sports. The boost starts with 1.10 for 3 selections and can go up to 1.30 for 11 or more elections.
30% CYBERSPORT COMBO BOOST
This boost applies to all accumulator bets placed on e-sports, this includes any available e-sport discipline. The boost starts with 1.10 for 3 selections and can go up to 1.30 for 11 or more elections.
Visa, MasterCard, iDebit, Interac, MuchBetter, MiFinity, Skrill, Flexepin, Neosurf, Bitcoin, BitcoinCash, Ripple, Dogecoin, Litecoin, Ethereum, USDT
Mobile optimization is one of the most important things when it comes to user experience and general usability. As you may already know – we test sportsbooks with several different phones, including older and outdated models. As always, among newer devices we used an iPhone 6 and a Samsung Galaxy A8.
Both devices performed reasonably well, however we did notice issues, loading some specific page elements like, for instance the live game tracker. Apart from that everything worked as expected, pages loaded quickly and all interface elements were positioned correctly and worked as intended.
The reason why there is almost no difference performance-wise between new and old devices lies in how the website is built. Static interface elements are re-used on most pages and are cached by your browser. Every time you move between pages, the visual part simply loads from the cache instead of being downloaded repeatedly. This approach might have some scalability issues going forward, yet at this point it ensures that all mobile users will have a smooth experience.
Finally, if you look close enough, you will see an "App" icon in the navigation menu. Don't be fooled – this is not an app, it simply adds the website shortcut to your phone's desktop. Feel free to add it if you want to, but keep in mind that it is only a shortcut. We aren't positioning this as something bad, because as you may have already read above – the website is exceptionally well optimized and it is not at all obvious that an app would have made it any better.
COBRABET DESKTOP SITE OVERVIEW
A functional and user-friendly interface design is usually a good sign when it comes to betting sites, as this will enable you to find exactly what you need in just several steps, markets and selections should be clearly visible and understandable while the betslip part should show all details relevant to your bet and additional options and/or features if applicable. Below are some examples of how Cobrabet's online sports betting section looks like.
The desktop version of Cobrabet gives you exactly what you would expect, their interface uses all industry-wide best practices and is rather intuitive. If you are to any extent familiar with sports betting – you will instantly know where to find what you want. Whether that is a good or a bad thing, it's up for you to decide, but if you are looking for something innovative and unusual – you will likely not find it here.
Nevertheless, let's look at what Cobrabet does well. First of all, when you open up the sports picker menu – you will see how many games are available for each sport. This is often taken for granted, however at the end of the day it will save you a lot of clicking. Secondly, every page of the sports betting section gives you a clear overview of how many markets are open in each game – you don't have to open them up one by one just to see what is going on.
To put things in perspective, even though Cobrabet utilizes a simple layout without any new and exciting features – their interface is intuitive and informative. This is what makes the difference at the end of the day.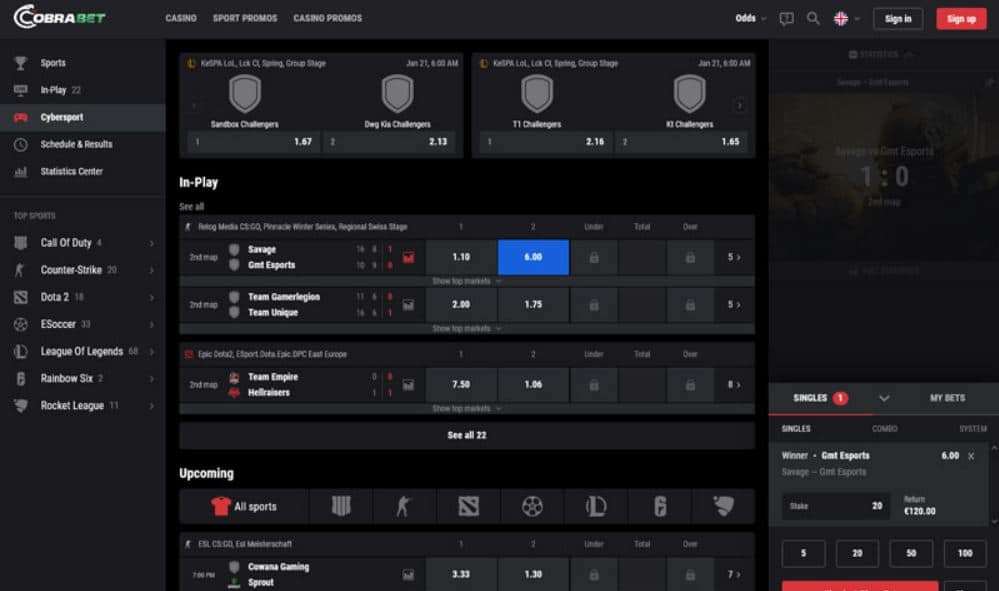 COBRABET AFFILIATE PROGRAM
Today most sports betting brands have an affiliate program, which almost anyone can participate in. Cobrabet is not an exception – you can apply to become an affiliate and start promoting their brand online. You will earn a certain percentage from the revenue generated by the players you bring in.
Cobrabet's affiliate program is managed by a company called "High Affiliates", so if you want to sign up with them – start with visiting their website (follow the link below). Once you are there, open up the registration form and fill it out. Make sure to add correct contact details, because a member of the affiliate team might need to get in touch with you in case they will have any questions.
After you complete and submit the fort, you will need to verify your email address – once you do that, you are good to go. Usually affiliate accounts are approved automatically, but don't worry if that will not happen immediately, as it may take up to a couple of days.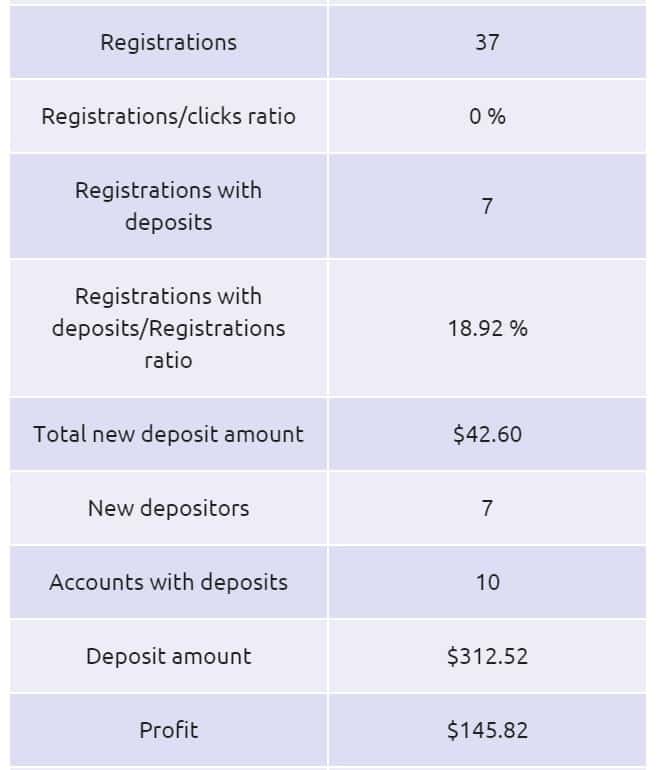 FAQ | FREQUENTLY ASKED QUESTIONS
IS COBRABET LEGAL IN CANADA?
Yes, it is. Cobrabet hold an Antillephone N.V. (no. 8048/JAZ2020-013) license – this license allows running an online sportsbook for players from Canada.
HOW TO REGISTER AT COBRABET?
In order to create a new account, you will need to enter your email address and a new password – verify your email address to finalize the registration process.
Now, even though you already have an account – you still need to add your personal information on the profile page. You will not be able to make any deposits until that is done.
HOW TO CLAIM THE WELCOME BONUS?
At the moment there is no sportsbook welcome offer for new players. We have put together a complete list of all active promotions and as soon as a new welcome offer becomes available – we will make sure to add it here.
WHAT IS THE MINIMUM DEPOSIT?
The minimum amount you can deposit into your player account will depend on the payment methods you want to use. MasterCard, Visa, iDebit and Skrill allow C$15 deposits. The minimum amount you can deposit with Interac is C$30. Flexepin, MuchBetter, Neosurf and others allow a minimum deposit of C$20.
WHAT IS THE MINIMUM WITHDRAWAL?
The minimum amount you can withdraw using Interac e-Transfer and cryptocurrencies is C$30. MiFinity allows C$20 withdrawals. There is also an option to request a direct bank account withdrawal, however in that case the minimum amount is C$500.
IS SELF-EXCLUSION AVAILABLE?
Neither temporary, nor permanent exclusion appear to be available on the account management page, so if you want to limit or close your account – you will need to get in touch with support.
Alex Mortin – a life-long basketball fan and a devoted Toronto Raptors supporter. Alex has worked with some of the biggest sports betting brands in the world and has more than 15 years of experience in this industry. His rich experience in the sports betting field makes him the perfect person to produce high-quality sportsbook reviews. If you want to connect with Alex and learn more about what he is up to, feel free to follow him on Facebook and LinkedIn.