BETFINAL BOOKMAKER REVIEW
WHAT MAKES BETFINAL A GOOD SPORTSBOOK
Betfinal is a relatively mature sportsbook, it was founded way back in 2013 and has quickly gained popularity in the sports betting community. More and more Canadian sports fans have started turning to Betfinal as their "go to" betting site, which is exactly why we believe it might be a good idea to give you an overview of their services.
It is also important to mention that there is also a casino section available here, however our main area of interest is sports and that is what we are going to be focusing on. Betfinal holds a valid Curaçao eGaming license, which allows the to legally accept Canadian players and facilitate online betting activities. Canadian dollars (CAD) can also be used as your main account currency to make deposits, play and request withdrawals. All popular local payment solutions are also available. Following our review of Betfinal as a sportsbook, we are happy to say that they are a solid brand and have lots to offer. All of that we will, of course, cover in more detail below.
As always, let's start off with the registration process, as this will be the first thing you are going to come across as a newcomer. Creating a new account at Betfinal is surprisingly easy and quick. All you have to do is fill out a rather generic registration form and you will be all set. The information required at this stage is: your name, email, desired password, phone number and address. As soon as you submit the for – you are good to go! There is no need to verify or confirm anything at this stage. The entire registration process will take under 2 minutes to complete.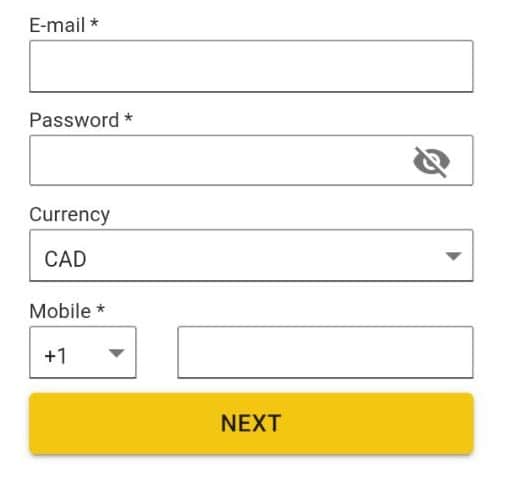 Aa a new player from Canada you can get a 100% welcome bonus up to C$100 for your first deposit. At first glance this is a relatively "standard" offer, however there are some interesting aspects to the applicable conditions. The minimum deposit you need to make in order to activate the bonus is C$20. Your bonus funds have to be wagered 6 times before they are converted into real money balance. The part we like about this offer is the fact that single bets count towards wagering, most sportsbooks only count accumulators, so this is quite a big deal. The minimum odds for a bet to count towards wagering are 1.90 and 1.60 for each selection in an accumulator bet.
Finally let's take a quick look at support – we reached out to support on several occasions in order to give you a good understanding of what to expect. The questions we asked were related to general betting rules and bonus conditions. We are glad to say that all representatives we got to chat with left a good overall impression. They were polite, professional and knew what they were talking about. Even though it seems like support agents were not native English speakers, they were still able to communicate clearly and efficiently. Having said that, feel free to give support a ping whenever you have questions or need assistance.
Betfinal offers betting on over 50 different sports, so that pretty much covers all mainstream disciplines as well as niche sports along with everything in between. They have a solid selection of hockey, baseball and basketball games available around the clock. In order to provide you with the best possible understanding of the betting variety here, we are going to look at some real-life examples.
You will always have access to all upcoming games from the NHL, NBA, NFL, MLB as well as other big and smaller leagues. This also includes a number of local tournaments, which you are unlikely to find elsewhere.
Let's take ice hockey as an example, at any given day you will have access to over 250 different games to choose from. On an average each game will have around 120 markets open for betting, while top-tier tournaments like the NHL will have up to 200 markets per game. This will include a wide range of special bets and combination markets, cahsout is also available. Additionally, Betfinal has a "BetBuilder" feature, it allows you to combine different selections from the same game into an accumulator bet.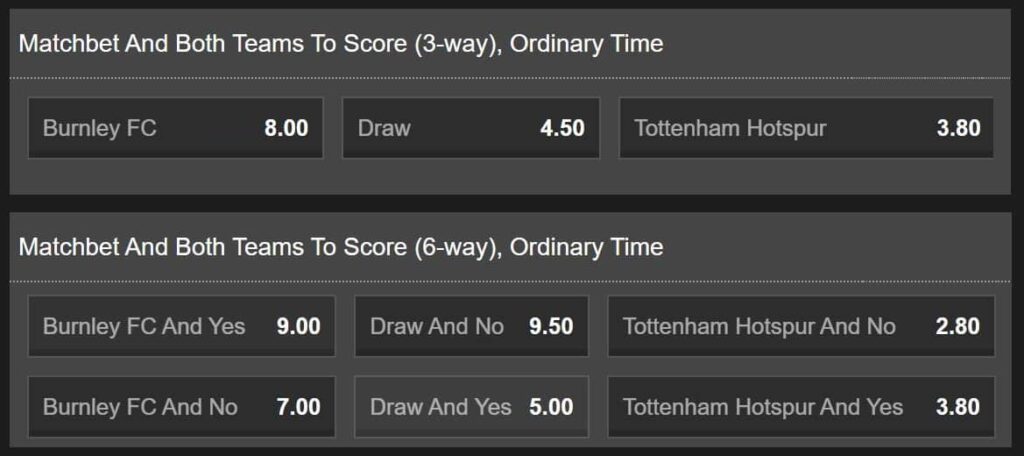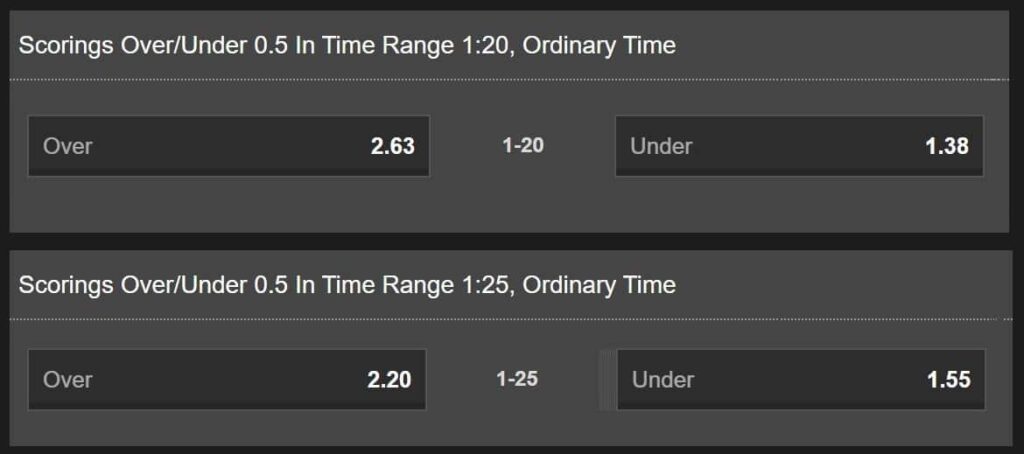 In addition to real-world sports, Betfinal offers a rich selection of virtual betting options. You can choose between three different football (soccer) virtual betting games, three horse racing games, greyhounds, basketball, tennis and even ping-pong. Our team doesn't have that much expertise when it comes to virtuals, however if you are into virtual betting – you will likely find something for yourself here.
SPORTS COVERED BY BETFINAL
Football, AFL, Alpine Skiing, Bandy, Basketball, Beach Volleyball, Biathlon, Bobsleigh, Bowls, Call of Duty, Cricket, Cross Country Skiing, CS:GO, Curling, Cycling, Darts, DOTA 2, e-Ice Hockey, e-Tennis, Field Hockey, FIFA, Fighting, Figure Skating, Floorball, Football – Simulated, Freestyle Skiing, Futsal, Golf, Greyhounds, Handball, Harness Racing, Horse Racing, Ice Hockey, Kabaddi, King Of Glory, LOL, Motor Racing, NBA2k, Rainbow Six, Rugby League, Rugby Union, Short Track Speed Skating, Show less, Snooker, Specials, Starcraft 2, Starcraft, Table Tennis, Tennis, Tennis – Simulated, Valorant, Volleyball, Warcraft III, Water Polo
Betfinal's live betting service comes together with a live streaming functionality. A large portion of hockey, football and basketball games come with a live stream that you can watch as long as you are signed in. Live streams are available for all users on all devices (mobile and desktop) as long as you are registered, you are not required to make deposits or place bets in order to watch them.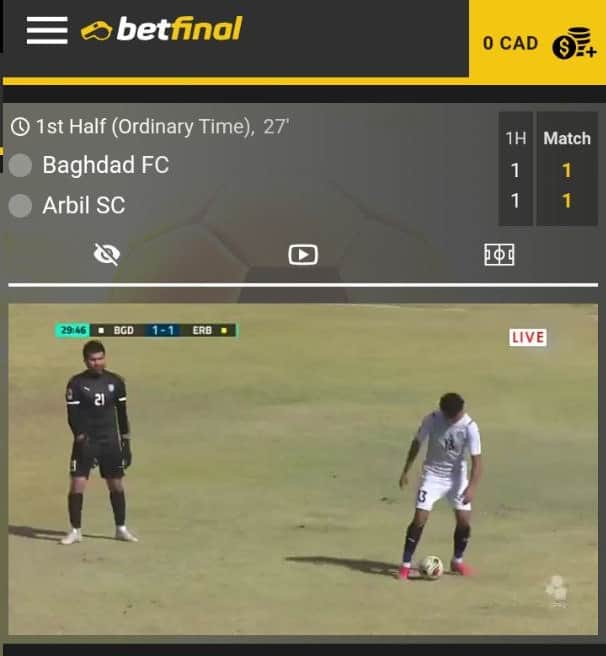 Betfinal allows you to use CAD as your main account currency, this means that you can make deposits, place bets and request withdrawals, all in your local currency. In addition to that, most local "go-to" payment options are supported. Obviously, Interac is supported, as that is one of the main payment options our readers are interested in. Other things like credit cards, cryptocurrencies, AstroPay and MuchBetter are also available.
The minimum amount you can deposit into your account is C$10.
The minimum withdrawal amount is C$20.
Betfinal offers you several sportsbook bonuses  – one is the usual welcome offer for new players, however there are also a couple of promotions for existing players. These mostly include free bets and accumulator bet insurance, which we will cover in more detail below.
FIRST DEPOSIT WELCOME BONUS
Betfinal's welcome bonus if available for all new players from Canada. In order to claim it, you will need to use ODDS1 bonus code together with your first deposit. The minimum deposit requirement in order to activate the bonus is C$20. Your bonus funds will be valid for 15 days and have to be wagered 6 times in order to be converted to real money balance. Your bets have to be placed with the odds of 1.90 or higher in order to count towards wagering. If you are placing accumulator bets – the odds for each selection have to be 1.60 or higher.
Wagering: 6x
Minimal deposit: C$20
Bonus valid for 15 days
Required odds: 1.90 or higher
OTHER PROMOTIONS AT BETFINAL
Even if you had already used the welcome offer – there is still something to look forward to. You can get risk free bets every Monday as well as securing your accumulator bets in case they lose.
RISK FREE BETS EVERY MONDAY
Every Monday you can place a C$10 risk free bet. It's simple, place your bet and enjoy your winnings if the bet wins. If your bet loses send an email with your bet ID to helpdesk@betfinal.com and your stake will be credited back to your account as a free bet.
ACCUMULATOR BET INSURANCE
If you place an accumulator bet and lose by just one selection – Betfinal will refund your stake. This offer applies to all pre-match accumulator bets with 5 or more win-draw-win (1×2) selections. You can get one stake refund per day up to C$50. If you found yourself losing by just one selection, simply send an email with your bet ID to helpdesk@betfinal.com and your stake will be returned to your account as a free bet.
Interac, Visa, MasterCard, ecoPayz, Bitcoin, Litecoin, Dogecoin, BitcoinCash, USDT, Ethereum, MuchBetter, AstroPay
Betfinal's team seem to have done a pretty decent job at optimizing their website for mobile devices. Why wouldn't they? Most of us primarily use our smartphones for most things we do online and that includes betting. Even though there is currently no app, it is by no means obvious that we would have benefited from having one, as everything you need can be accessed via the mobile website.
Let's first take a look at the Ui design, at first glance it is nothing special and is in line with what is the accepted industry standard. This is a good thing for the most part as you will not need to spend a lot of time searching for things you need. The interface is intuitive, so even a newcomer will be easily able to navigate and move around different sections of the sportsbook.
Another thing worth mentioning is how informative and functional the mobile website is. We have already mentioned that everything you might need is available on the mobile website. This includes all features like live streaming, Betbuilder, virtuals and other similar things. We were also quite pleasantly surprised with how informative the UI is – there is a clear indication of how many games are available for each sport and tournament. The same applies to each individual game – you will always see how markets are open in any given game, without the need to actually open those games.
Finally, we can have a quick look at the actual betting interface. Betting markets are normally grouped into different categories depending on their types and outcomes. You can also "pin" certain markets to the top of the list, which is especially convenient when you are looking to compare odds. The only thing that seems to be missing isa search box – there is currently no way to search markets based on their names.
BETFINAL DESKTOP SITE OVERVIEW
A functional and user-friendly interface design is usually a good sign when it comes to betting sites, as this will enable you to find exactly what you need in just several steps, markets and selections should be clearly visible and understandable while the betslip part should show all details relevant to your bet and additional options and/or features if applicable. Below are some examples of how Betfinal's online sports betting section looks like.
As we already said before, Betfinal don't really have a radical or innovative approach to how their sportsbook product looks and works. At this point it is probably fait to say that this is for the best as they use industry-wide "best practice" approaches that worked quite well so far.
Their interface is informative even in the overview section, you can easily see how many games are available in each competition, as well as the number of markets in each game. Live stream availability (only for registered and logged in users) is also easy to spot. To sum things up, Bwetfinal are doing a good job at playing it safe.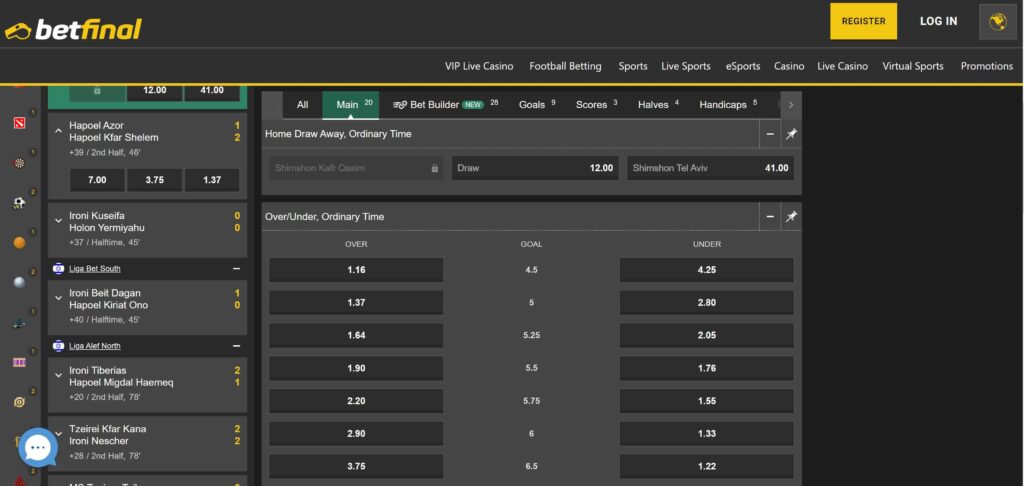 BETFINAL AFFILIATE PROGRAM
Like many other sportsbooks out there, Betfinal has an affiliate program, which pretty much anyone can join. You just need to have some kind of a plan of how you are going to promote their brand and attract new players. Once you start – you can earn a certain percentage of the profit that is generated by the players you brought in.
If you feel like trying your luck at becoming a successful affiliate, then the first thing you need to do is submit an application. Go to Betfinal's affiliate portal (button below), full out the registration form and submit it. Once your application is reviewed, you will receive an email either accepting you into the program or telling you why you were not accepted.
If you are accepted, there is only one small step left. Log into your affiliate account and get your personal affiliate links. You can now use those links to attract new players. If you are active on social media or have a personal website or blog, those would be good options to consider.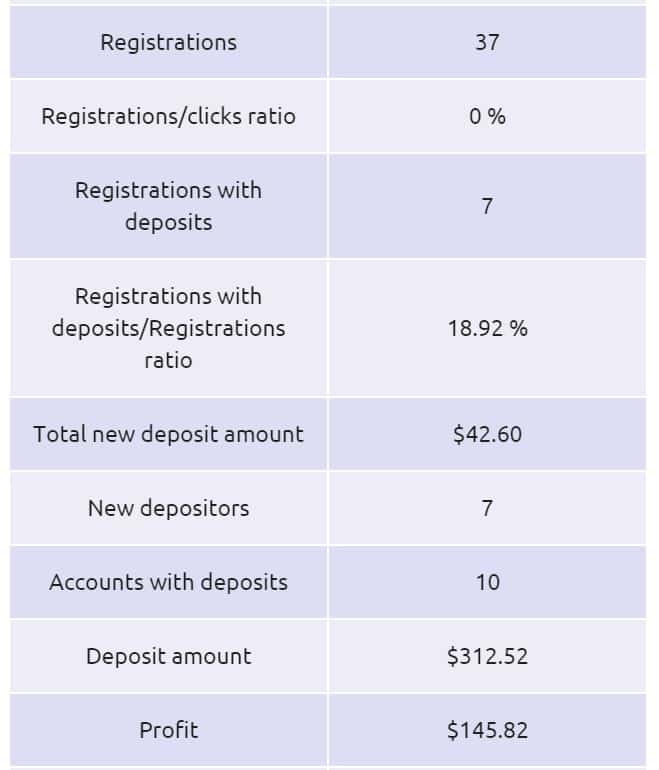 FAQ | FREQUENTLY ASKED QUESTIONS
Yes, Betfinal is a licensed sportsbook operator. They hold a valid Curaçao eGaming license, which allows them to accept players from Canada.
HOW TO REGISTER AT BETFINAL?
The registration process at Betfinal is easy as can be and will take you no more than 2 minutes. Pretty much all you have to do is fill out a standard registration form. The details required are: your name, email address, phone number and physical address. As soon as you submit the registration form – you are good to go! There is no need to confirm or verify anything at this stage.
HOW TO CLAIM THE WELCOME BONUS?
The welcome bonus is given to all new players from Canada who make their first deposit. In order to activate the bonus you must fulfill the following conditions: you need to make your first deposit, the deposit amount must be C$20 or more and you must use the ODDS1 bonus code when making the deposit.
Reach out to support before placing any bets in case you forgot to use the bonus code together with your deposit.
WHAT IS THE MINIMUM DEPOSIT?
The minimum amount you can deposit is C$10.
WHAT IS THE MINIMUM WITHDRAWAL?
The minimum amount you can withdraw from your player account is C$20.
IS SELF-EXCLUSION AVAILABLE?
Even though self-exclusion doesn't appear to be available on the account management page – you can close your player account (temporarily or permanently) by contacting support.
Alex Mortin – a life-long basketball fan and a devoted Toronto Raptors supporter. Alex has worked with some of the biggest sports betting brands in the world and has more than 15 years of experience in this industry. His rich experience in the sports betting field makes him the perfect person to produce high-quality sportsbook reviews. If you want to connect with Alex and learn more about what he is up to, feel free to follow him on Facebook and LinkedIn.